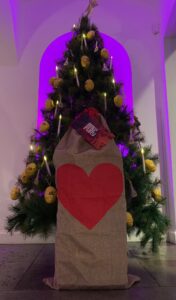 And so we arrive at the end of this year, and what a bumpy ride it has been for us all. We here at Raw Fury have been incredibly fortunate. While this year has been challenging both mentally and physically for us and our industry peers as well, we have the (now sudden) luxury of having work that can largely be done remotely. We're also in an industry that has not only kept going but even thrived in this time of isolation across the globe, with people looking to folks like us and the devs we work with to entertain them, or just pass their time until a better tomorrow comes along.
We've been very fortunate this year, as well as those before. With that in mind that we want to give back to those less fortunate than ourselves. 
That's why we've this year decided to contribute to Unicef, WWF and Stockholms Stadsmission. 
We've also teamed up with Stockholms Stadsmission to physically bring some Raw Fury magic to the youths of impoverished homes in Sweden in the form of holiday presents containing some nice little trinkets, candy and games from the developers we've been fortunate enough to work with through the years.. 
Our hope is that by doing this we can be part of brightening the day for those who need it the most, and to stand behind organizations that do this continuously over the years. 
We have cautious hope that 2021 can be a year better for all of us, and if we all get together to support and carry each other – we're sure we can make it happen. 
Stay safe. Stay human. Do something for someone who needs it.
– Zeke, and the Raw Fury crew