Inspired by retro shooters and arcade games, Gun Jam is a fast-paced, energetic and over-the-top rhythm-action FPS, where players must shoot to the beat to survive.
Get into the groove of the music and shoot, dash, kick and rocket jump to fight off hordes of enemies coming your way and rack up the highest score possible. 
Featuring an OST with 3 different genres, 4 battle arenas, an array of enemies, bosses and weapons, and a custom music importer to craft your own experience and play to your own beat. Get ready to turn it up to 11!
Key Features:
Shoot, dash and kick to the beat to survive waves of attacking enemies

Play to our OST or add your own music with our importer to create your own gameplay experience

Experience four diverse and vibrant maps that sync to the music

Defeat various enemies and challenging bosses, each with their own behaviours and attacks

Play as different characters, with their own attributes and a unique Overdrive ability

Master a variety of weapons, which each deal different damage
DEFEAT TO THE BEAT
Carefully match your shots and actions to the beat, fight off hordes of troopers and other enemies to survive and then take on the powerful bosses.
SYNC WITH THE SOUND OF THE CITY
FPS firefights are synced to our original, multi-genre soundtrack featuring EDM, TrapHop and Metal music. Immerse yourself in our art style and vibrant surroundings that react to the music.
PLAY WITH CUSTOM MUSIC
Shoot to the beat of your own soundtrack and customise your experience with our Custom Music Importer. Simply upload your music to generate a custom beatmap and play along to your own music in any of our maps. The game supports MP3s, WAVs, FLACs and OGGs.
BLAST BADDIES WITH VARIOUS WEAPONS
Use the Double Barrel Shotgun, Railgun, Rocket Launcher and Plasma Rifle to hit the hordes of troopers headed your way and deal out different levels of damage.
REBEL AGAINST THE SPEAKER
Welcome to the vibrant city of 'Mubel' where the omni-present 'Beat' means everything and music is used as a means of control. While city-dwellers dance to The Speaker's ruling tune, you must rebel and break out of its hypnotic flow by force. 
Warning: Gun Jam contains flashing images. If you experience epileptic seizures or blackouts when exposed to certain light patterns or flashing lights, please immediately stop playing and consult a doctor.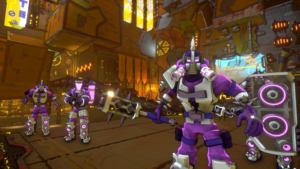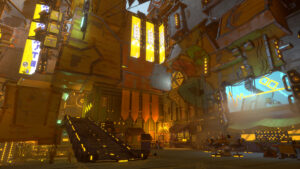 About the Developer:
Jaw Drop Games is an independent game studio based in the U.K. and we are a collective of experienced, award-winning game development professionals. We blend AAA production values with independent originality and creativity. Our goal is to create games with jaw-dropping moments.
Official Site: jawdropgames.com 
Twitter: twitter.com/jawdrop_games