Hi everybody! It's me again, Andrew 🙂
You might remember me from such blogs as What Is Rawcember? and Dandara Leaps Onto Apple Arcade – but today I am going to do something I have never done before – *exhales* I will surrender my blog writing duties and let Out of the Blue take this one. I mean, it's just the 1st anniversary of their award-winning debut game, Call of the Sea, after all. Would you rather hear a charming and most-likely hilarious personal anecdote from some schmuck, OR, hear directly from the developers themselves? – Me too! So without further ado…
//
A Special Letter from Developer Out of the Blue
Hey everyone!
Today is a truly special day: it's the Call of the Sea 1st Anniversary! And we have lots of things to celebrate and share with you including a 50% off sale, tons of awards, and a brand new Collector's Edition… but first, lets take a stroll down memory lane together, shall we?
It's been a whole year since Call of the Sea launched, and we couldn't be happier with everything that's happened to get us here. From the creation of our studio Out of the Blue, to developing the first Call of the Sea prototype in 2018 under the working title "Blue Game," to signing on with our amazing publisher Raw Fury in 2019, to you – yes, you! – reading this blog RIGHT NOW– all the steps it's taken to get us here feels like… they were written in the stars.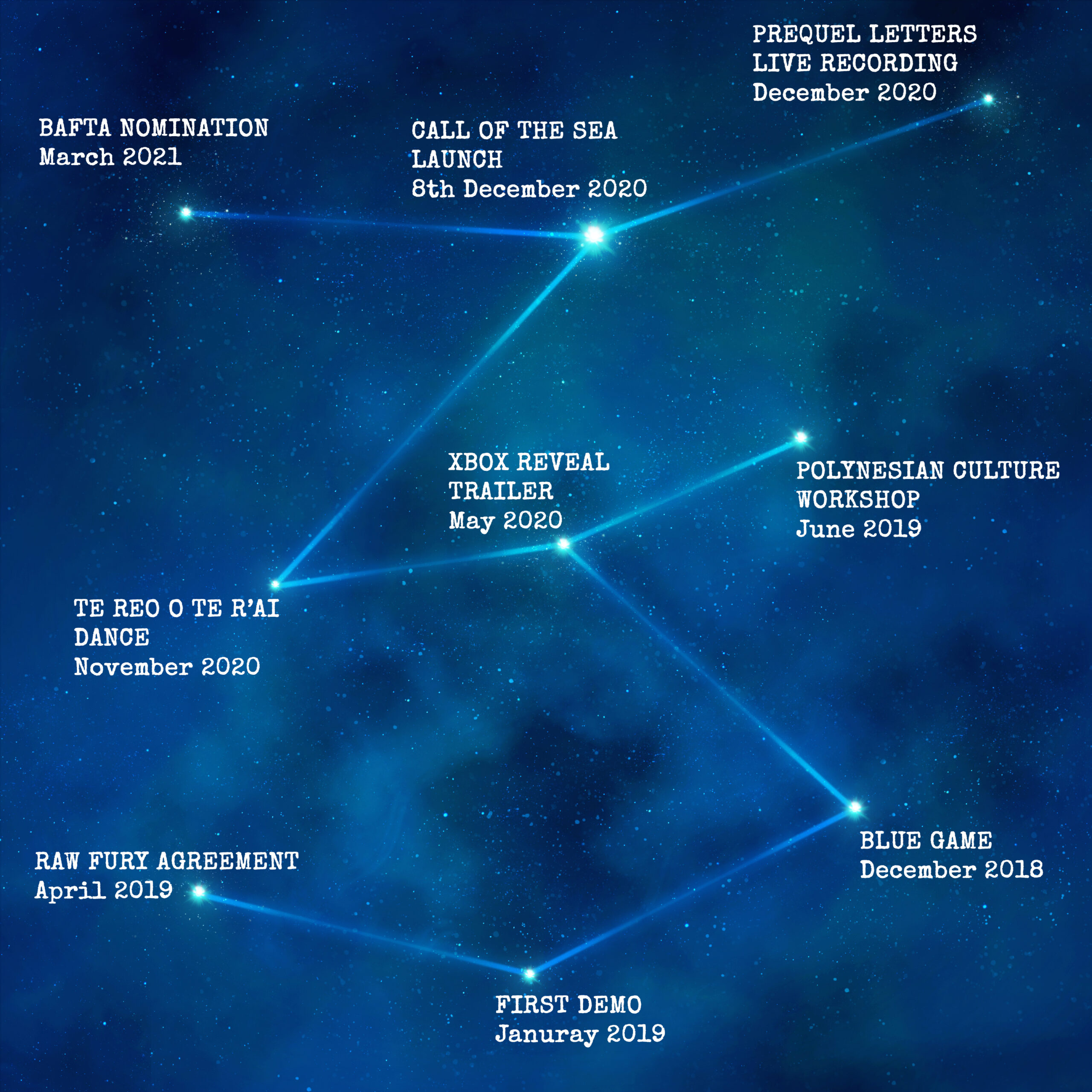 In June 2019 we delved deeper into Call of the Sea's story and its ties to Polynesian culture through a workshop led by our Polynesian culture consultant Yunick Vaimatapako.
And what an exciting moment for us in May 2020, having our trailer revealed at an Inside Xbox event and being one of the first Xbox Series X titles announced!
Then, shortly before launch, Ia Ora Tahiti International School students decided to perform an Aparima inspired by the Te Reo O Te R'ai song, composed by Eduardo de la Iglesia for Call of the Sea.
We also had a lovely time recording the prequel letters performed live by our dear friends Cissy Jones (Norah) and Yuri Lowenthal (Harry).
And finally on the 8th of December 2020, Call of the Sea was launched! 
We wanted to deliver a love letter to the puzzle genre, a game crafted with care that all would want to play. We were confident that we had achieved this, but we certainly weren't expecting the incredible warm reception that we got from all types of players from all over the world.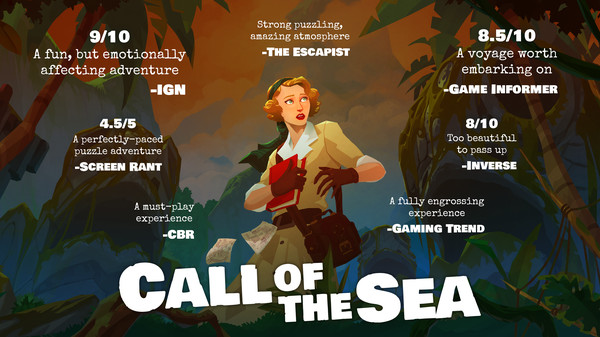 We've also won a few awards since then! The first one was the Best of 2020 on the Xbox Exclusive from IGN last year, then came others like GameKult, Hobby Consolas, DeVuego (we won in 7 categories!), Zapping Awards, WeirdMarket and more recently Tiga Game Awards and the Nyx Game Awards. But the one we are most proud of is being nominated in the BAFTA Awards for Best Debut Game. What an honour and a dream come true!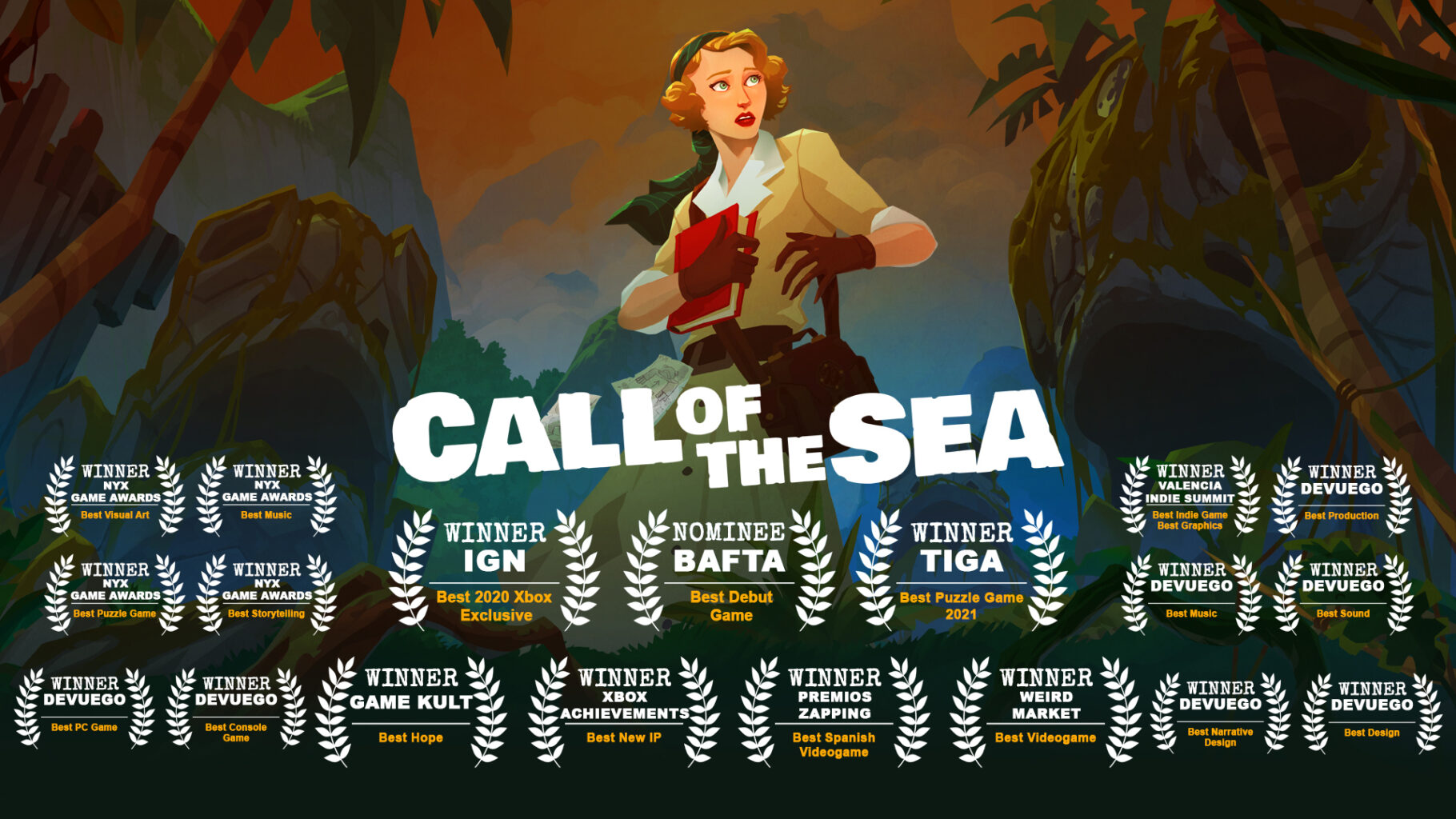 We also keep very close to us the kind words and the marvelous fanart that our players have shared with us during the year, and the new ones that come every day. We can't say how happy you are making us with your support and love for the game.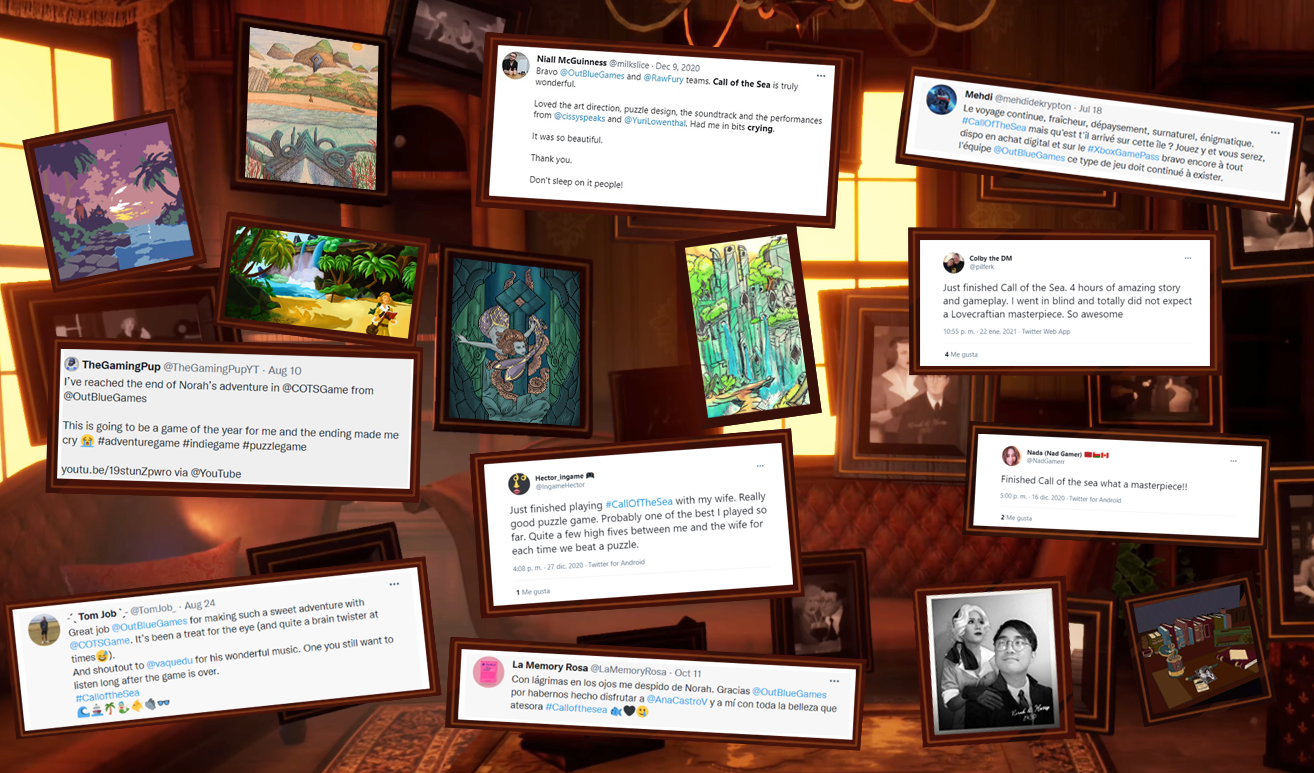 As we mentioned above, we have a lot to thank you for and a lot to share with you. So, let's start with some holiday gifts!
Indeed, don't miss this golden opportunity to meet Norah & Harry and have a great time solving puzzles while discovering just what happened to the mysterious Everhart expedition – or gift it to a friend!
We also have wonderful news for those of you that keep a special place in your heart for Call of the Sea's story: we have partnered again with Meridiem Games on a Special Collector's Edition of the game!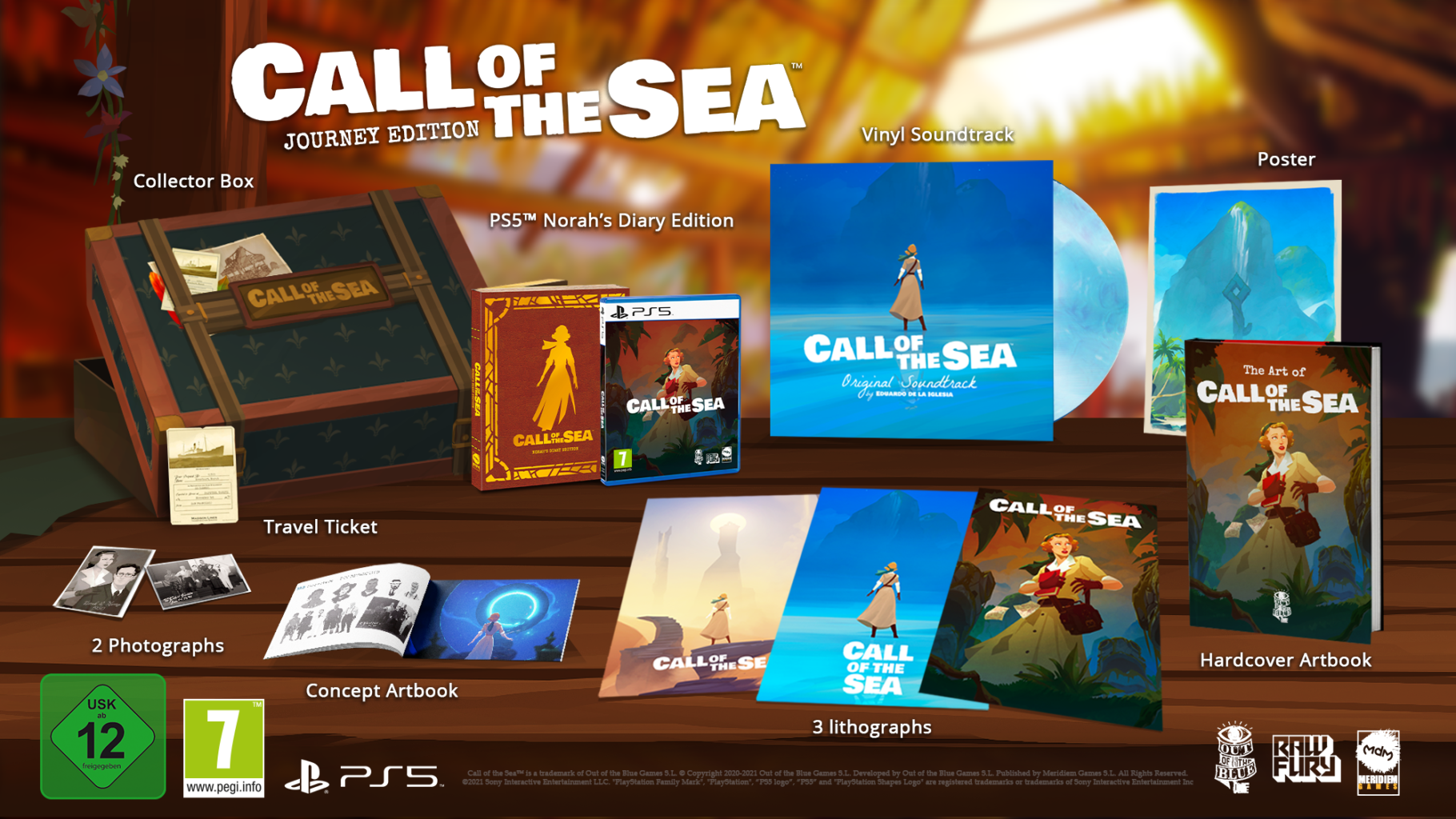 Call of the Sea – Journey Edition is designed and manufactured by Meridiem Games and will be a limited numbered boxed edition of only 1,000 units available across Europe. The Journey Edition will contain all the content of the Norah's Diary Edition and will add the exquisite Original Soundtrack (composed by Eduardo De la Iglesia) on a collector's-coloured vinyl, a hardcover art book with more than 130 pages with designs, artwork and images from the game and three lithographs with original artwork, all displayed in a special Call of the Sea branded box. More details can be found here.
To help celebrate, our friends at Raw Fury are hosting a giveaway for one lucky person to win one of the first Collector Box Journey Editions, please follow @RawFury on twitter to find out how you can participate.
We are also opening a Call of the Sea profile on Instagram to share more info about how the game was made, the stories behind the characters, and some more hidden treasures. Find that at @CalloftheSeaGame.
Or, if you feel curious about us, the developers, you can also find us on Instagram at @OutBlueGames where we'll share things about the team, our new projects and of course our company values. For now, enjoy our Call of the Sea 1st Anniversary Party photos, where we had a haka masterclass for the team, an escape room, a fun photobooth… and even a cake full of black ichor to lose our sanity!
If you are more into Twitter you can also find us @OutBlueGames.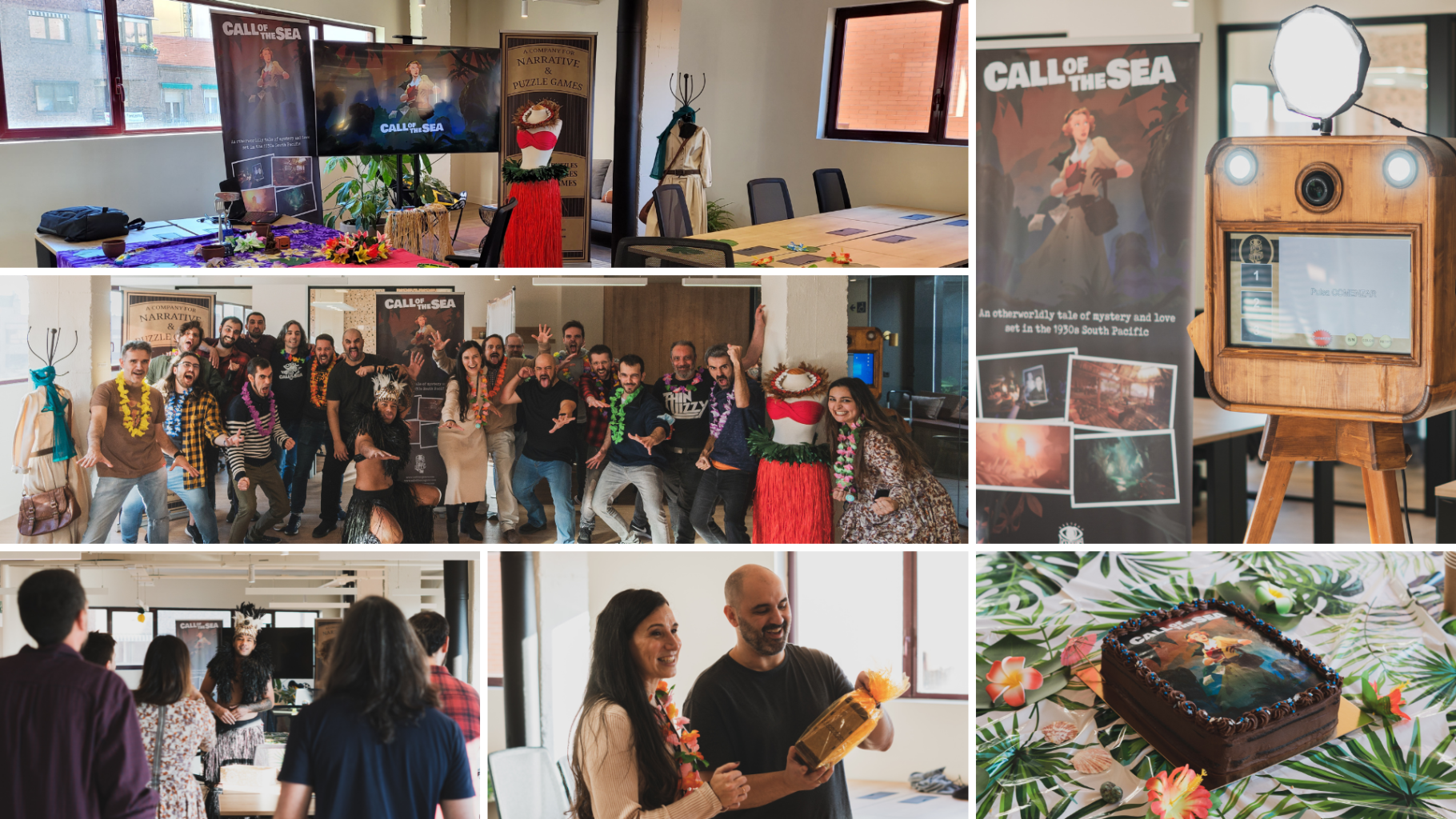 And last but certainly not least, please follow our channels and stay tuned because we are working on some really exciting things we can't wait to tell you about!
Thank you, from the bottom of our hearts, Dear Old Pals.
~ The Out of the Blue Team