Xbox and Microsoft Gamepass owners should feel a soothing, ocean breeze blow past today as Townscaper is now on Game Pass!
Enjoy building your perfect ocean-locked town in what can only be described as the ultimate toy-building toy.
Build quaint island towns with curvy streets, small hamlets, soaring cathedrals, canal networks, or sky cities on stilts. Build the town your dreams, block by block.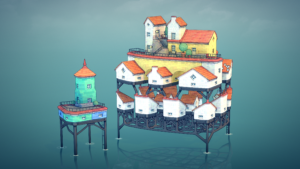 No goal. No real gameplay. Just plenty of building and plenty of beauty. That's it.
Townscaper is an experimental passion project. More of a toy than a game. Pick colors from the palette, plop down colored blocks of houses on the irregular grid, and watch Townscaper's underlying algorithm automatically turn those blocks into cute little houses, arches, stairways, bridges, and lush backyards, depending on their configuration.

Every day of Rawcember comes with a gift, giveaway or other surprise!
Today: Bring a little cute and calm to your day with a collection of Townscaper goodies for your desktop!