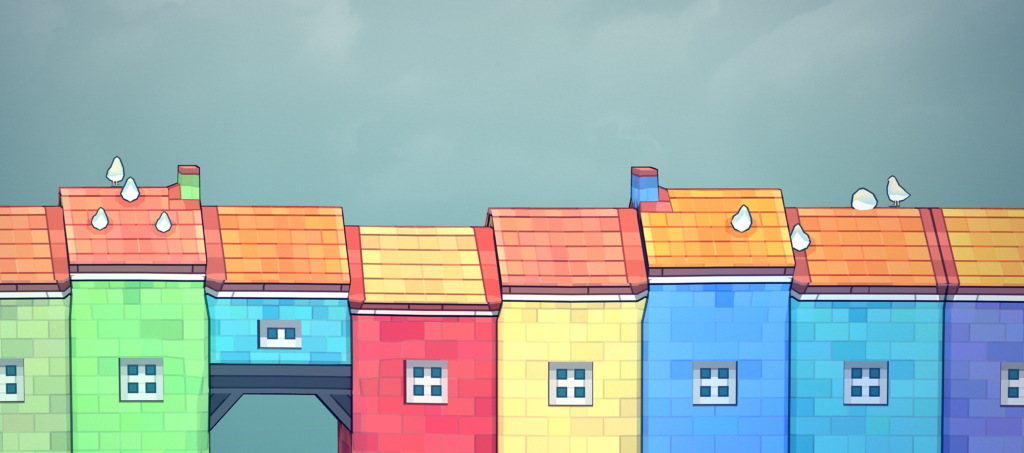 Surprise! In the Awesome Indies segment of IGN's Gamescom showcase, it was revealed that Townscaper, the town-building toy from Oskar Stålberg and Raw Fury, is now available for $5.99 (USD)/ £4.79/ €4.99/ ¥26. Gamers who have been enjoying this mesmerizing and intuitive town-builder in Early Access will now be able to take the game on the go on Nintendo Switch or later this year on mobile. 
The appeal of Townscaper is as simple to understand as the game itself – just build something beautiful. There is no story, nothing to unlock, no levels to chase – just the soothing sound of plopping down colorful building blocks and the satisfaction of watching the algorithm effortlessly link them together to create an ocean-side town. It is this tranquil straightforwardness that has captured the attention of gamers looking to unwind as well as those brimming with creativity that simply want a sandbox to play in.  
This title is the brainchild of Oskar Stålberg – coming off the success of his earlier work on the Viking inspired RTS, Bad North. Originally released only on PC, Oskar has teamed up yet again with publisher Raw Fury to bring Townscaper to even more platforms. The availability of Townscaper on the Switch will be especially exciting since it is perfectly suited to touch-screen capabilities. Whether inspired by your surroundings or the recreation of worldwide cities, Townscaper is designed to feel much more like a toy than a game.  
Core Features:  
Pure building without the grind or failure! 

 

Pick your colors and create charming island towns with a calming art style

 

S

atisfying sound design

 

Intuitive tools available from the start 

 
Algorithm that ensures every block snaps together in a cohesive way

 
About Oskar Stålberg  
Previously a Technical Artist at Ubisoft and Unity Developer at UsTwo, Oskar made a name for himself online with his procedural generation demos. After working on the successful Viking RTS Bad North, Oskar pursued his passion project – the town building creator Townscaper.