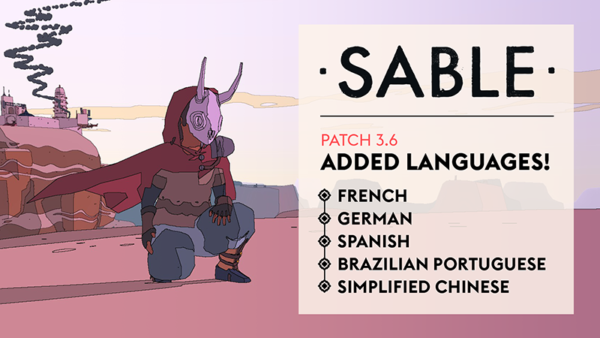 It's December the 21st, y'all, and with it, we want to bring you news of one of the most requested features for Sable, localization! We hope you can dive back in during the rest of the holiday season with one of the new languages added to the game. 
We thank you for your patience! You can read more about it at the following links:
Steam: https://steamcommunity.com/games/757310/announcements/detail/3147450638819378660
GoG: https://www.gog.com/game/sable
Epic: https://www.epicgames.com/store/en-US/p/sable
Xbox: https://www.xbox.com/en-us/games/store/sable/9mz4v4rg0w81
Sable's localization has expanded to now include French, German, Spanish, Brazilian Portuguese, and Simplified Chinese. Traverse the world of Midden, now with more localization options!
For all you Xbox players, we haven't forgotten you. The patch is a little delayed, and we apologize for this. We'll be sure to shout out loud on our Twitter when it's live. Xbox players can also expect to see further updates that will improve performance and frame rate and add colour contrast to enhance visibility across the game (and, of course, some bug fixes and the like!)
Thank you again, and have a great holiday season! ♥
Update 23.12.2021.: Localization update is now live on Xbox too! Enjoy!