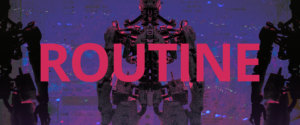 Nothing routine about the newest game to enter the Raw Fury Catalog!
ROUTINE is a first-person sci-fi horror game. Set inside an abandoned Moon base designed around an 80's vision of the future, players will explore the decrepit station looking for answers about the events that unfolded there. Armed only with a Cosmonaut Assistance Tool (C.A.T.), to interact with the various computer systems, players must navigate whatever unknown dangers still remain.
In ROUTINE, players will need to outwit and outmaneuver a mysterious threat that lurks inside the decaying lunar complex. Explore the different sections of the station, from abandoned malls to deteriorating living quarters, to piece together the fate of those that once lived there. A minimal UI helps create a more immersive and tense experience as players attempt to run, hide, or defend themselves from any threats that may appear.
No official launch date has been set, but players who want to follow the game's progress can Wishlist it now on Steam.