Developer Brainwash Gang and publisher Raw Fury have revealed a new trailer through IGN's Summer of Gaming alongside a free content update and a look at what's to come in Year One for Friends vs Friends, the delightfully frantic deck-building FPS that recently launched on Steam. 
On June 13, the free 'Little Lars' update will bring a new skin and five new cards, while another free expansion titled 'Baba's Laundromat' will be released in early July and will include 10 new cards, 15 cosmetics, and five new skins all unlocked by completing the newest NPC on Buddy's Boulevard, Baba!
Friends vs Friends puts a game-changing twist on the classic FPS formula: all your powers, weapons and debuffs are played from your deck of cards! Become a titan, summon friendly turrets, steal health with vampire bullets, or just give your opponent a big head. Earn new cards, level them up, and unlock new characters with unique skills in chaotic 1v1 or 2v2 game modes.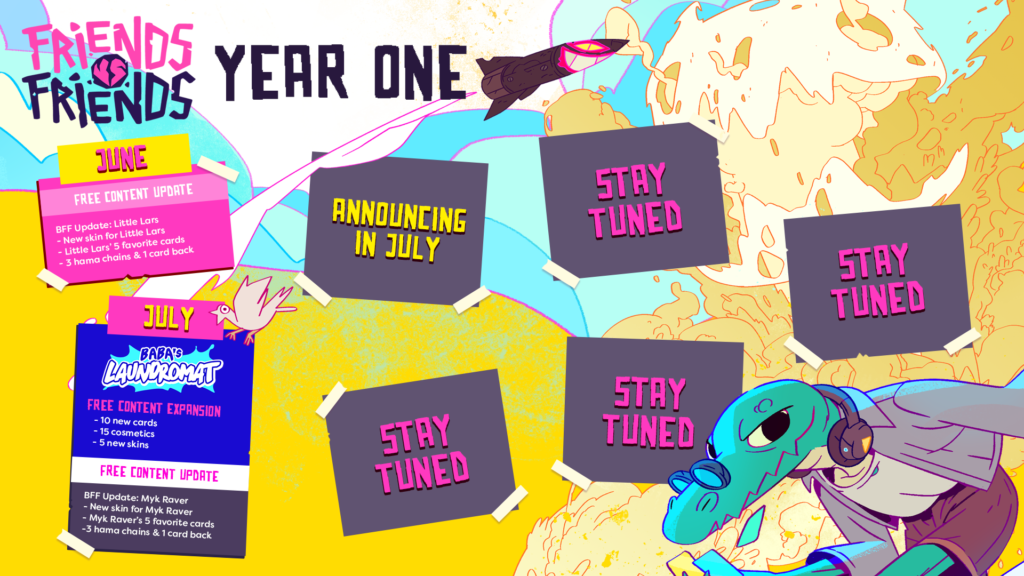 Key Features
Friends vs Friends: Matchmake with players worldwide in fast-paced 1v1 or 2v2 combat, or host private matches with your friends. Need support? Invite some pals to spectate!

A Game with Character:

Choose from a cast of stylish characters, each with their own special abilities that improve the synergies of your deck.

Progress to Impress:

Level up and get new cards through matched bouts and timed challenges.

Stack Your Deck:

Collect weapon, trap and curse cards, then level them up to increase their power.

Play Dress-Up:

Unlock cool cosmetics like skins and card design variants for bragging rights!

Practice, Practice, Practice:

Go up against bots to try out new card combos and improve your skills for when it really counts.

Low Price + High Quality = How?!

Keep the crew together!

Friends vs Friends

levels the playing field on cost, so jumping in is a big-brain move.

Updates & Seasonal Content:

Expect loads of post-launch content, including new unique characters, cards, maps, and upgrades to your home base!